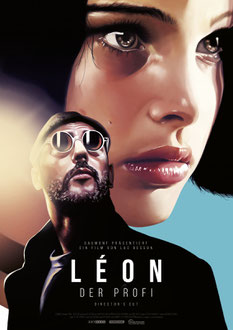 Leon, or The Professional as it is sometimes called, tells the story of a hitman who quietly divides his time between watching old movies at the cinema and carrying out contract killings on behalf of his employer, Tony. His "quiet" life is changed when his neighbour's daughter asks for his help following a family tragedy. What follows is both incredibly thrilling and beautifully sweet.
Made in 1995, Leon has not one but three major film stars at the absolute top of their game. Jean Reno is great as Leon, the both impressionable and ice cold assassin, working for his friend Tony for money he trusts is there without ever really knowing how much. His skill is clear; the opening scenes showcasing this in a thrillingly taut opening salvo.
Then Gary Oldman, in possibly, no probably, his finest role. As Stanfield, Goldman is absolutely terrifying as the sociopathic agent who mixes drugs, murder and Beethoven on a seemingly daily basis.
The real star though, is Natalie Portman. At only 11 years old her performance is utterly believable. She holds your attention completely in every single scene she is in, portraying Mathilda with confidence and fragility in equal amounts.
Building slowly towards its outstanding climax, Leon is an absolutely wonderful movie that needs repeated viewings to fully appreciate. And you will want to, too.
Will it help my English?
Lots of dialogue and different accents throughout (American, French, British) make this a great challenge for intermediate speakers.
Buy it here; https://amzn.to/3NskHSK