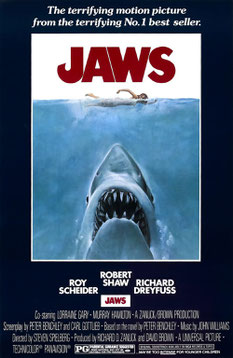 How can it help my English?
There is American English throughout with challenging accents at times. Easy to follow plot.
This is probably the greatest horror film of all time.
And it IS a horror film.
I'm not a big fan of this genre: scared to death of The Omen at 10 and even more so by A Nightmare On Elm Street a year later, horror films have never been high on my list of film priorities. But Jaws is the exception.
Directed by a young (and never better) Steven Spielberg, Jaws tells the simple story of a shark that terrorizes a holiday beach town and the three men who team up to try to kill it. That's it.
And it's absolutely fantastic. Roy Scheider and Richard Dreyfus are great as the local police chief and marine biologist who fight to make the town aware of the dangers the shark poses, but it's Robert Shaw, as Quint, who steals the film. His monologue about his time on the USS Indianapolis almost as chilling as the shark.
Finally, a word about the shark, "Bruce". Although filmed in 1975, the shark is completely believable, even today. Through great use of mechanics and real-life shark footage, there's nothing that CGI could better.
Jaws is so good I've watched it countless times. You should, too...