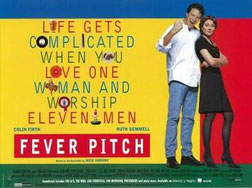 British English throughout with clear, understandable accents.
Sports films aren't that common and not particularly popular. But most sports films have the same theme, with a team of some sport or other struggling at the lower end of their league before overcoming their differences and climbing the division before finally winning the title at the end of the film. Yay!
Fever Pitch is different. Although it does involve football (soccer) it is, at its heart, a love story. And its very, very funny.
Colin Firth is perfect as Paul, an easy going English teacher that supports Arsenal football club. In flashbacks you see his first game and how he becomes the fan he is. It's gerat and for anyone who has experienced a similar time, it will resonate. As a fan of Newcastle United my whole life, I know exactly what Paul is going through!
Paul meets Sarah, a new teacher at the same school and they become a couple. As someone with very little knowledge of football, she hits almost every note of the "other person" for whom sport and their partners love for it are both bizarre and intriguing.
Add to this dynamic some hilarious scenes involving Pauls best friend and the background of Arsenals possible first championship season in years, and you have a wonderful feel good romantic comedy that will absolutely resonate whether you love football or hate it.